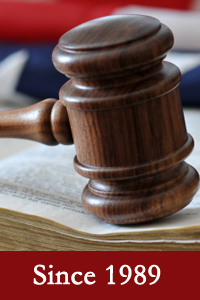 Do I have a legal need?
Fill out this short form and we'll contact you regarding your situation.
About David Crowe, Attorney
I was born in 1961 and grew up in Athens, Georgia. I have been married for over 22 years and have three children. I have practiced law in Athens, Georgia since 1989. I was mentored by a local legend and famous Athens icon, Jim Hudson. He and the lawyers at his firm, Hudson, Montgomery, and Kaivoda, taught me the correct way to practice law. I have tried nearly 100 jury trials. I practice in Athens and all surrounding counties, and I handle personal injury cases throughout Georgia. I can be associated on cases throughout the Southeast and the United Sates. I am dedicated to my profession, and am enthusiastic about my job and my practice. I represent my clients in an honest, professional, and zealous manner. I believe in fighting for the rights of those who've been trampled on, passed over, or knocked to the ground, both literally and figuratively. I enjoy trying cases, and when a case is tried to a judge or jury, I fight to win, bottom line.
I am an avid cyclist, and I believe I can outride any lawyer in Georgia for that matter. I carry the same confidence into the courtroom. As Muhammad Ali said, "It ain't bragging if it's true." I am a former professional and Category 1 bicycle racer. I won a gold medal in Havana, Cuba in 2004 in the Pan-Am Games in the Masters Road Race. I have learned that winning trials, like winning at anything, is always a result of hard work, due diligence, and proper preparation. Lastly, a true trial lawyer must be capable of organizing the evidence he or she has gathered, and presenting that evidence in a highly effective and organized manner to a jury of twelve people. A slipup at any step can doom a case. The orderly presentation of evidence, like bicycle racing, is a skill that cannot be mastered by reading a book. One must be tossed into the fire as Jim Hudson once told me.
I graduated from the University of Georgia in 1984 with a B.A. (English Literature). After I graduated, I moved to San Diego to race bikes and attend law school, and I earned my J.D. from California Western in 1988. I was admitted to the State Bar of Georgia in 1989. I continue to pursue my passion for law and cycling, though I no longer race. I am a proud member of the Friends' Board of The Georgia Review, and serve on the board ofThe Athens Twilight Criterium Foundation. I was voted "Best Attorney" in Athens, Georgia by local residents on two separate occasions, though I understand that simply implies name recognition. Either way, I can't say that I'm not pleased by the award. I started and continue to run the Winter Bike League in Athens. I also edit an internet site designed to trick cyclists into fancying literature (www.winterbikeleague.com). My family and I are members of First Methodist Church (Athens). I have a BV rating with Martindale-Hubbell.